Multi-functional feed for deep water turtles
Simulate the natural predation behavior of deep water turtles
turtle feed
turtle
turtle food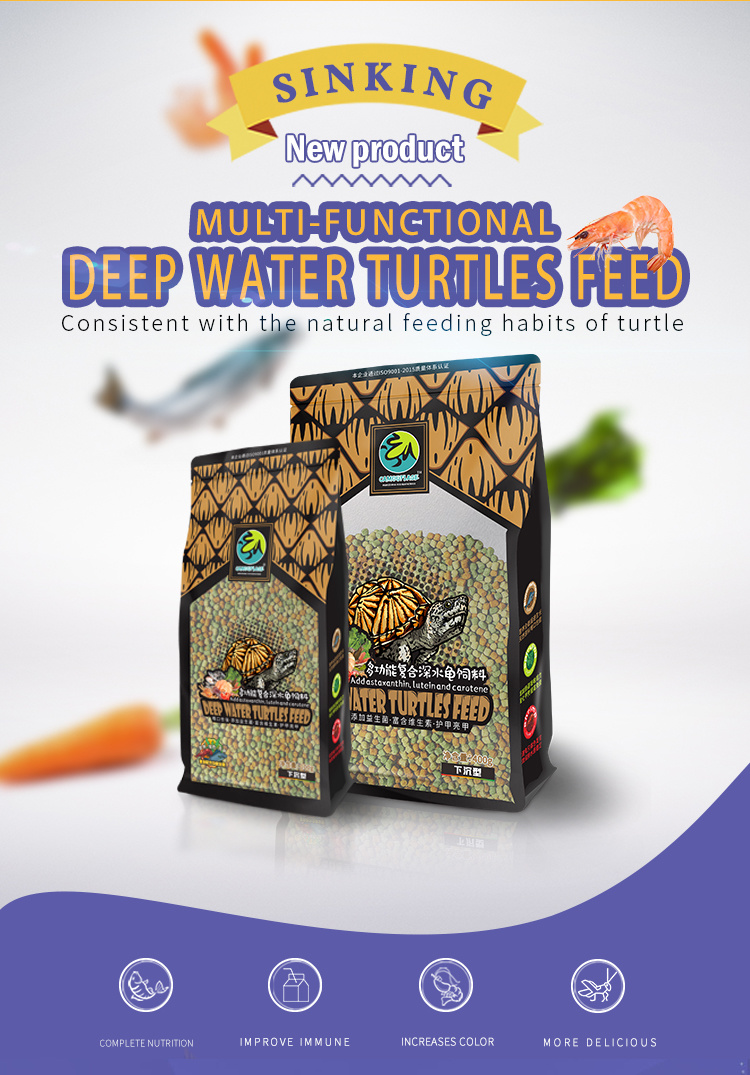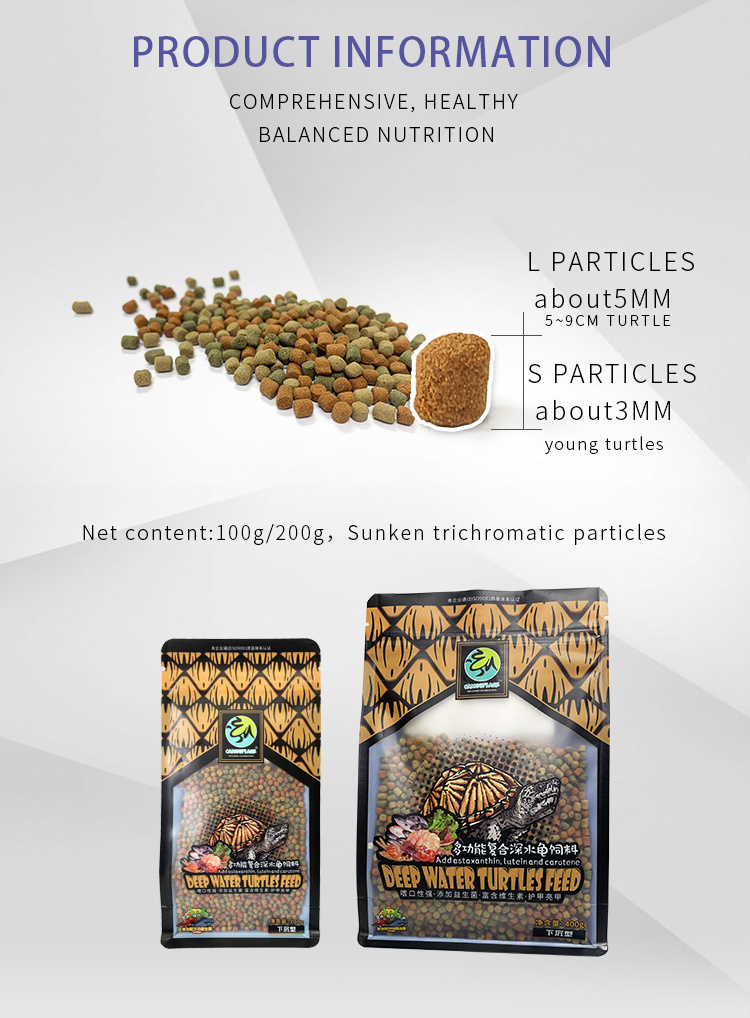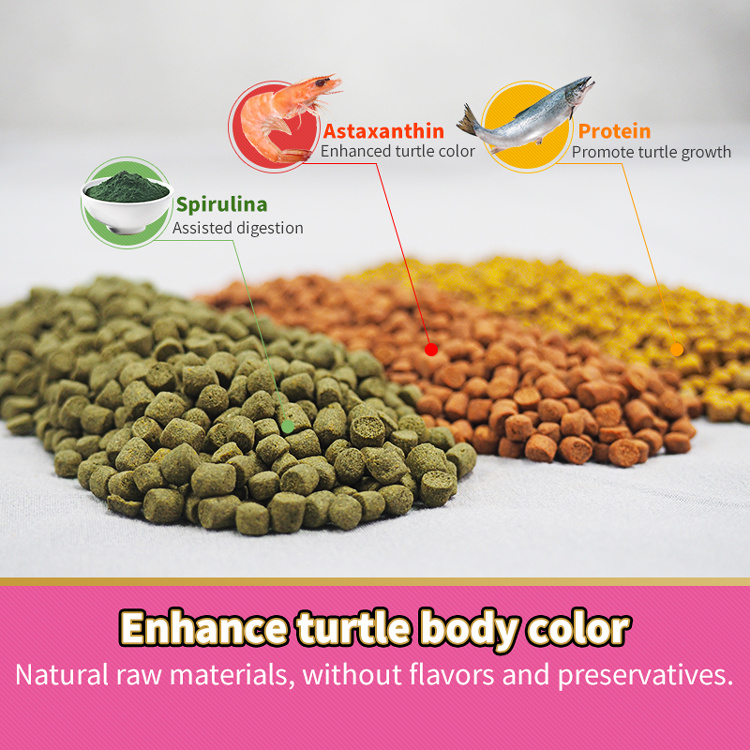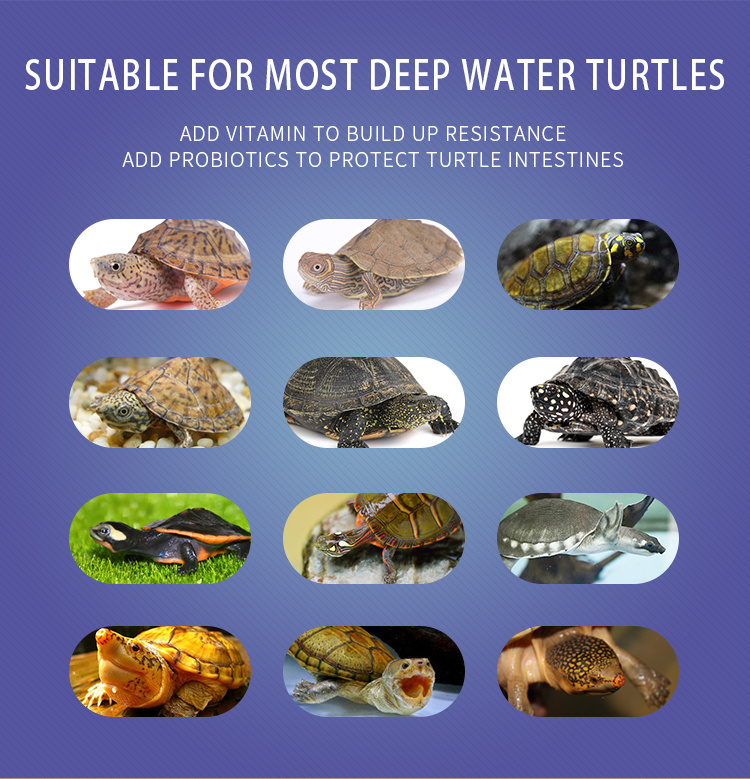 Product information:
Sinking particles
Tow kinds of packing
100g particles about 3mm
400g particles about 5mm
FEATURES:This feed is in view of deep water turtle foraging habits and physiological characteristics, suitable for Sternotherus carinatus and other kinds of deep water turtle use.The sinking particles keep the turtles from coming to the surface to feed. in order to balance nutrition and enhance the body function. In particular, if there is a need for the turtle to improve color, such as: Stink-pot Turtle, Eastern Painted Turtle,Sawback turtle,etc. Supplementation with calcium and phosphorus helps with the formation of tortoiseshell patterns.
INSTRUCTIONS:The quantity is based on the number of turtles and their sizes,growth status,appetite, water conditions and climate.The feeding principle is frequent feeding and small quantities.And quantity of feeds is better eaten within 20 minutes.Please consume the feeds in a short period after the bag is open.
GUARANTEED ANALYSIS:
| | |
| --- | --- |
| Crude protein≥ 40.0% | Moisture≤ 10.0% |
| Crude fat≥4.0% | Calcium≤ 4.5% |
| Crude ash≤ 16.0% | Total phosphorus≥1.5% |
| Crude fiber≤ 8.0% | Lysine≥ 1.5% |
Ingredients: astaxanthin, carotene, spirulina, lutein, fish oil, soy lecithin, high-quality fish meal, shrimp meal, small crustaceans, shellfish, high-quality yeast, wheat flour, wheat germ, degrease soybean, vitamins, minerals.
Storage: please keep the product in the dry, ventilating and cool place. The product meets the hygiene standard of feeds.